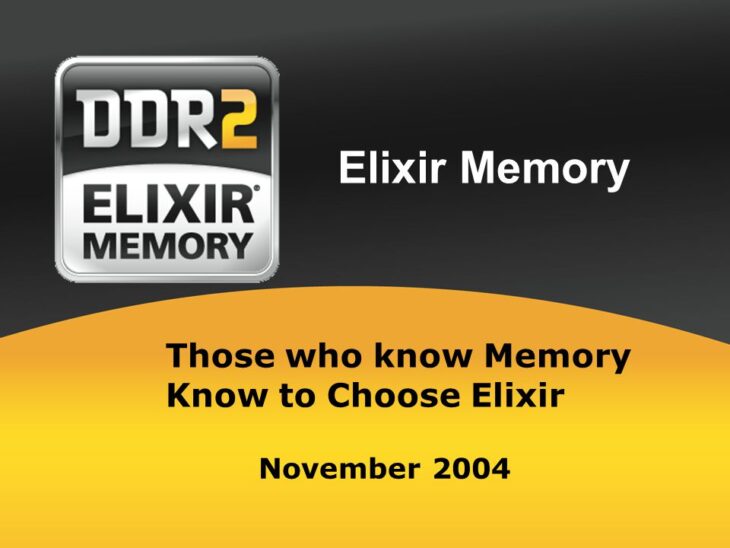 Elixir Memory: About the Best Memory Devices
Elixir is a well-known computer memory manufacturer. One of its superior products is Xtreem. This product has high specifications, namely DDR-1333 speed with timings at CL 7-7-7-21. However, Xtreem is a bit too much to use for everyday computing. Therefore, Elixir launched its home version, namely Elixir DDR 2GB with a speed of 1333Mhz. The home version of Elixir memory is built at the same speed as the Xtreem, but with CL 9-9-9-24 memory timings.
Another thing that makes Elixir DDR 2GB interesting is that it is equipped with a heat spreader. These components function to remove hot air on the computer due to use all day. That way, the computer will not be slow even though it is used continuously. Although called the home version of Elixir, Elixir DDR 2GB is still capable of running a variety of heavy applications. The Taiwanese manufacturer sells its newest product at a price range of USD 45.5. Including affordable and reasonable prices, because the specifications are also quite adequate. International Branding Marketing Inc has appointed KINGMAX Group as Elixir sales representative in Indonesia. KINGMAX Group is known as a well-known memory supplier, so IBMI believes in KINGMAX Group as a sales representative in Indonesia. Elixir is a computer memory manufacturer that first launched its products in 2001. Nanya Technology is the company that carries Elixir by presenting high-quality DRAM modules. All Elixir products are claimed to meet the requirements for compatibility with the world's most popular PC, motherboard and chipset companies.
Besides Elixir, there are several brands of RAM that also have the best quality. Here are some of the best quality RAM brands for PC computers:
Corsairs
Corsair is a computer hardware company that has been operating since 1994. Some of its best RAM products are DIMM, SODIMM, and Vengeance, which are types of RAM for gaming. Its proven quality makes Corsair RAM priced higher than other brands.
G. Skill
This Taiwanese RAM brand is known to have the best quality RAM products for computers. Just like Corsair, the price of RAM brand G. Skill is also quite high, but the price is comparable to the quality provided.
Transcend
Just like G. Skill, the Transcend brand is also a computer equipment manufacturer from Taiwan. This brand is quite popular in Indonesia, because it has good quality but the price is cheaper than the 2 brands above.
Kingston
Kingston is the most popular brand of computer equipment in Indonesia, even the Kingston flash drive is considered the flash drive of a million people. This brand produces many forms of memory, such as flash drives, SSDs, and RAM.
Hynix
This South Korean memory manufacturer was founded in 1983. Hynix is ​​well-known as a supplier of RAM worldwide and as a semiconductor industry. Several laptop manufacturers, entrust Hynix as a supplier of memory for their products.
Patriot
This company is known as a manufacturer of gaming accessories and RAM since 1985 until now. Not only RAM, Patriot also issued several other products such as keyboards, headsets, gaming mice, SSDs, USB flash drives.
Adata
The company, which has been established since 2001, is based in Taiwan. Not only producing RAM, Adata Technology also produces other storage products, ranging from USB flash drives, SSDs, hard drives, and others.
So that's a brief explanation about Elixir memory and other best memory brands. The brands above have been proven to have the best quality as PC computer memory.